FS200FZYZ metal impeller AC axial fan
FS200FZYZ is offen using Household exhaust and cooling,it is suit for big industrial fitting cooling,it's beautiful outlook is population of customs
Our company holds the management philosophy of "customer first, quality first".To be realistic,the principle of good faith has been a partner of the affirmative.To establish a good reputation.The company will take a higher platform,the design and development of more top technology.To meet the needs of customers.Keep trying,keep moving forward.Welcome friends to come to consult,negotiate!My company will be dedicated to serve you!
FS150/200FZYZ copper line AC axial fan detail: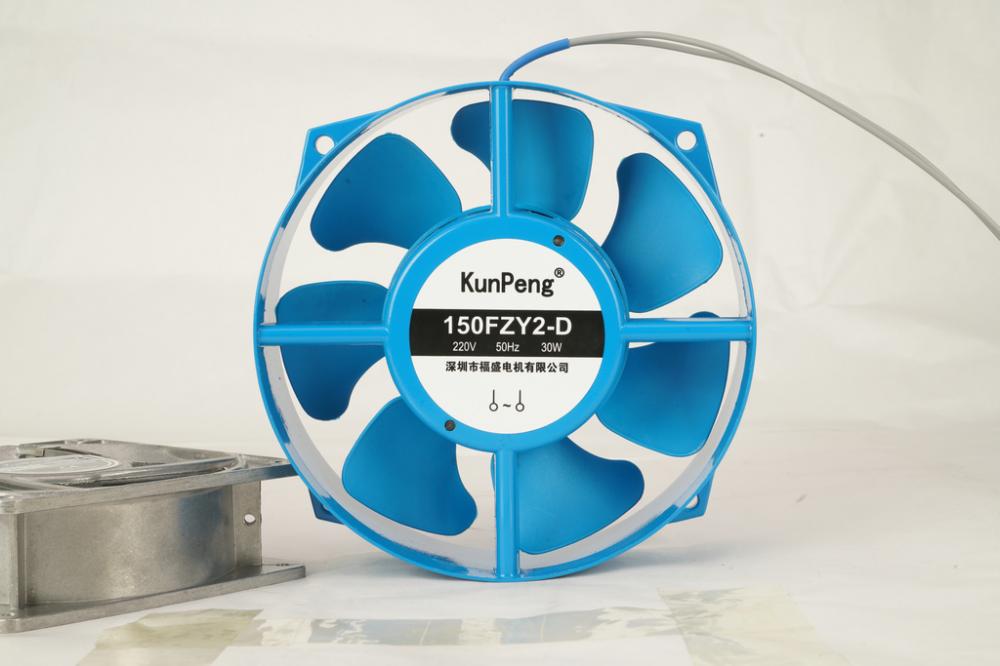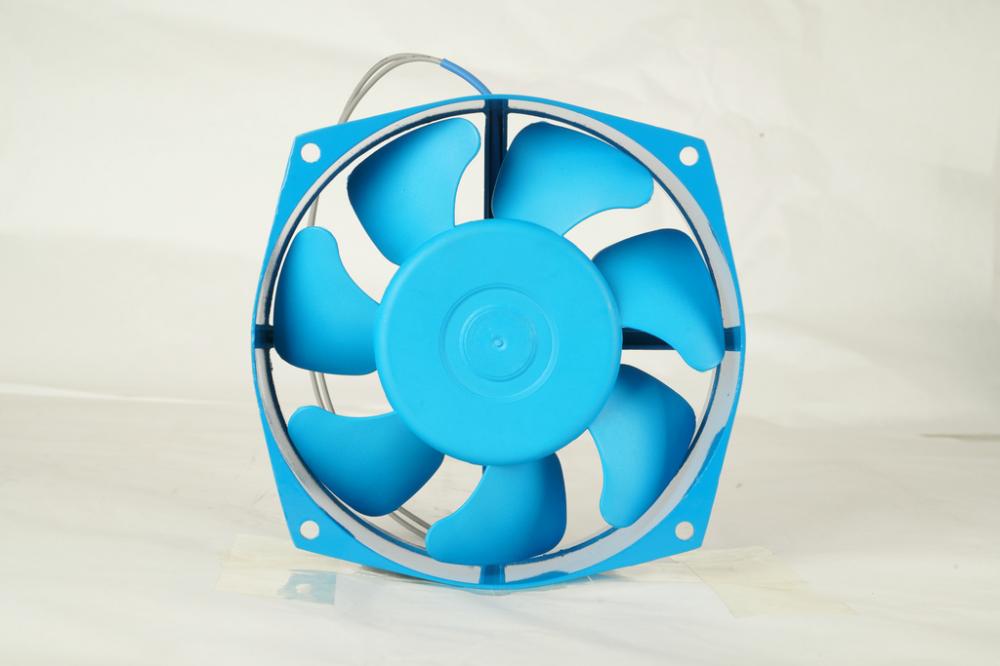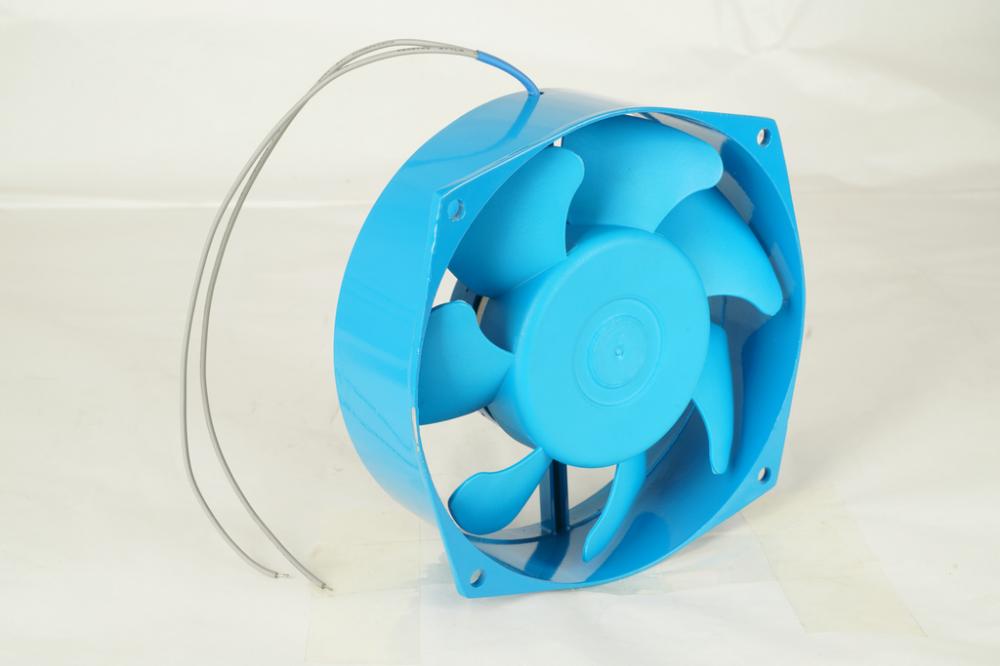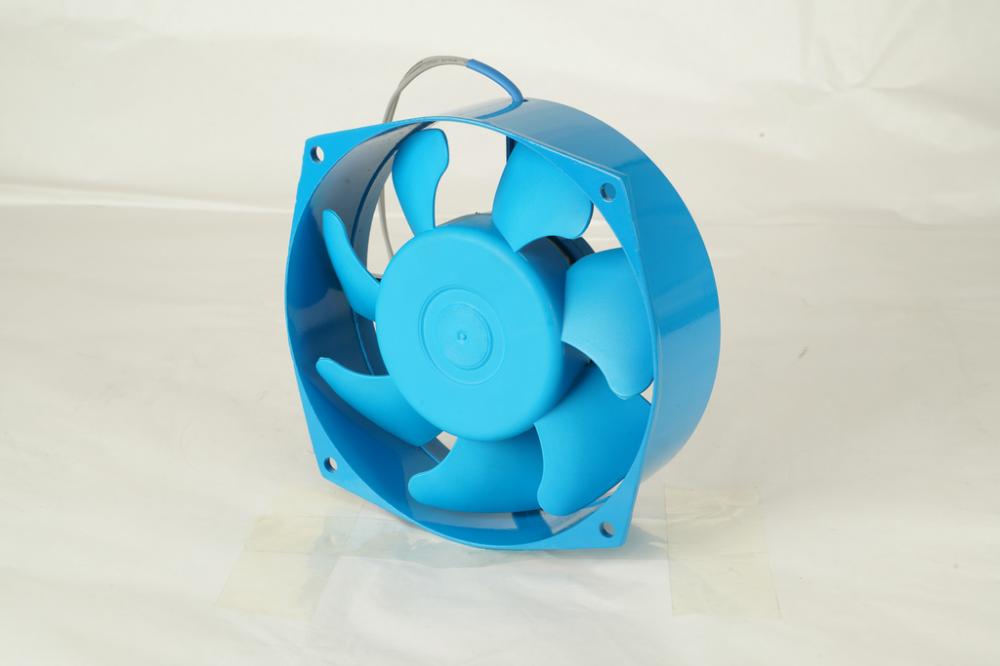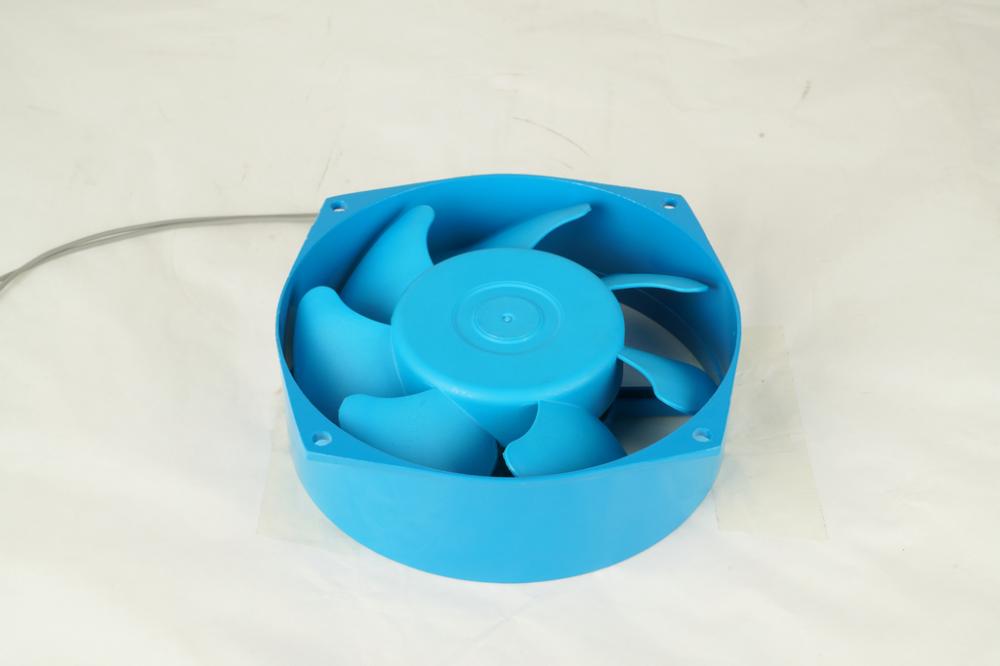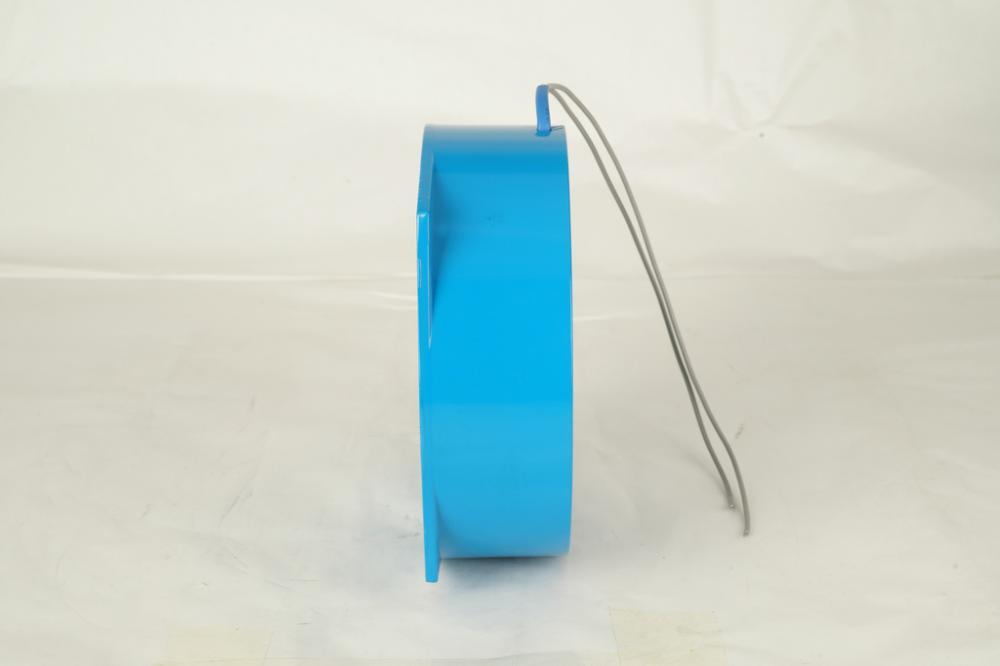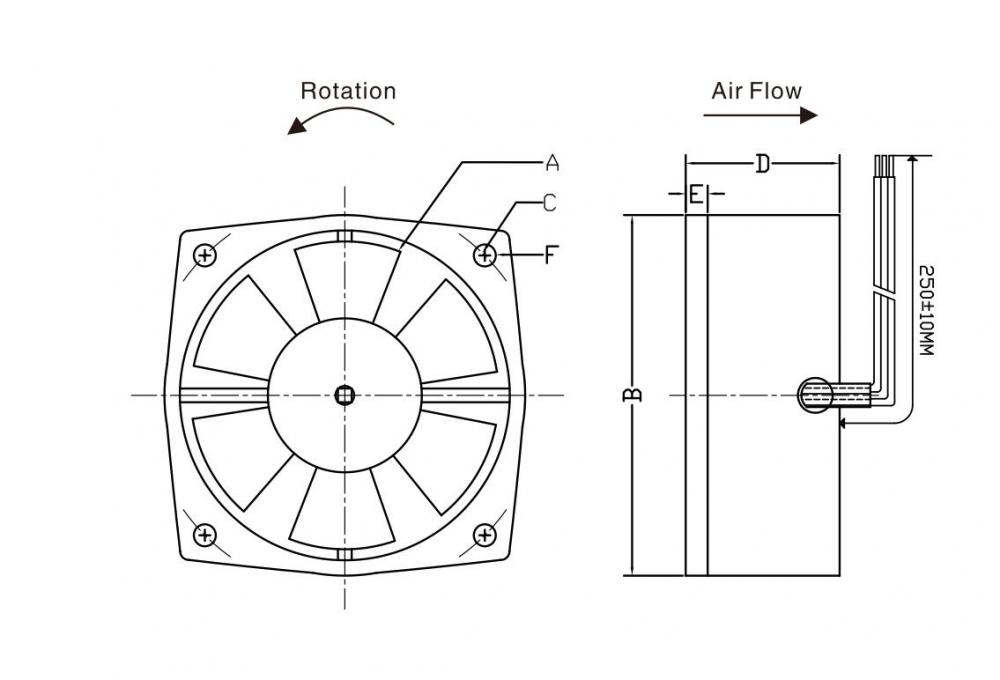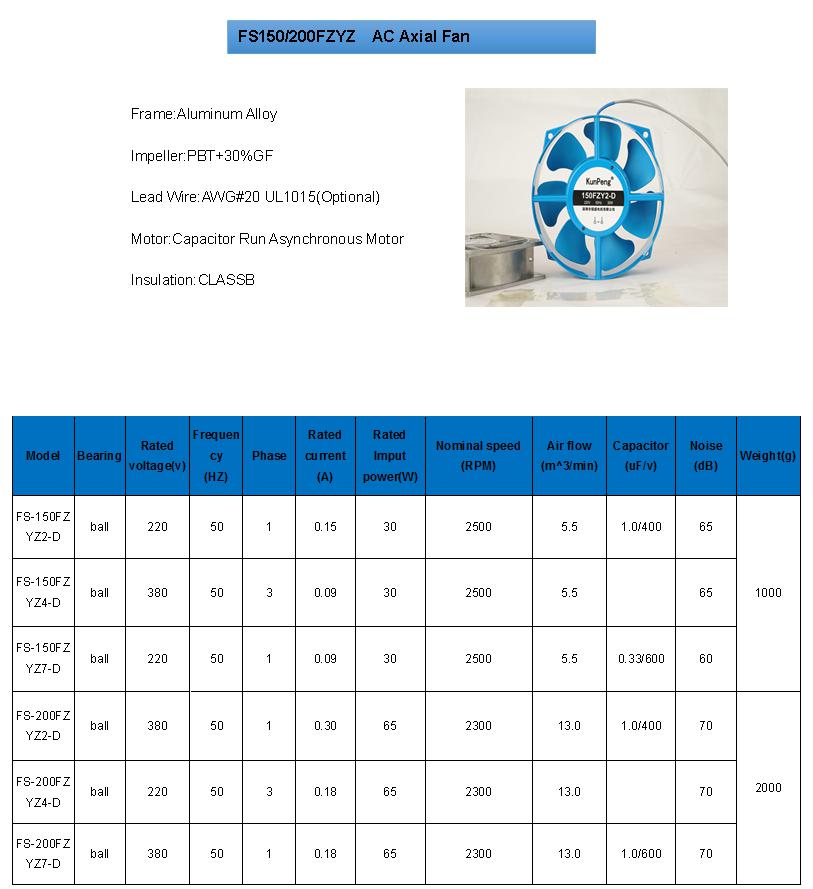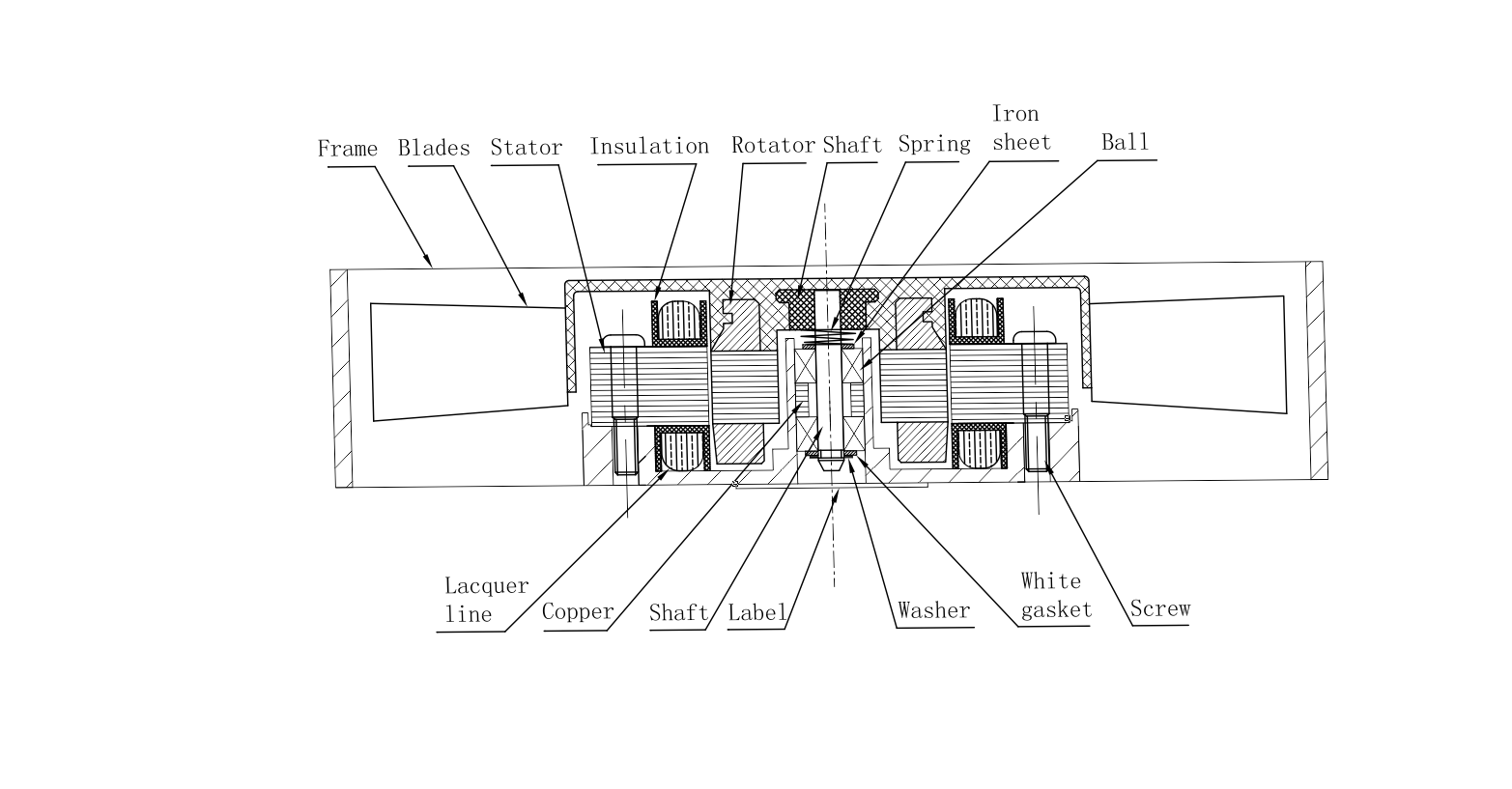 System impedance of equipment
In accordance with the internal construction of the equipment to be called. The resistance will appear when passing air through the equipment
This will cause reduction of stationary pressure during the ventilation and is called the system impedance.
Consequently,it becomes necessary for us to give stationary pressure value higher than the impedance for performing ventilation to the equipment system impedance can be given using the following formula:
Δ P=Reduced pressure(mm-H2O)
Q=Air Volume(m3/min)
Δ P=KQn K5 Constant
N=index to be determine by air flow
N=1:laminar flow
N=2:Turbulent flow (Normally n=2)
The constant K here cannot be determined unless measure it by physically equipment.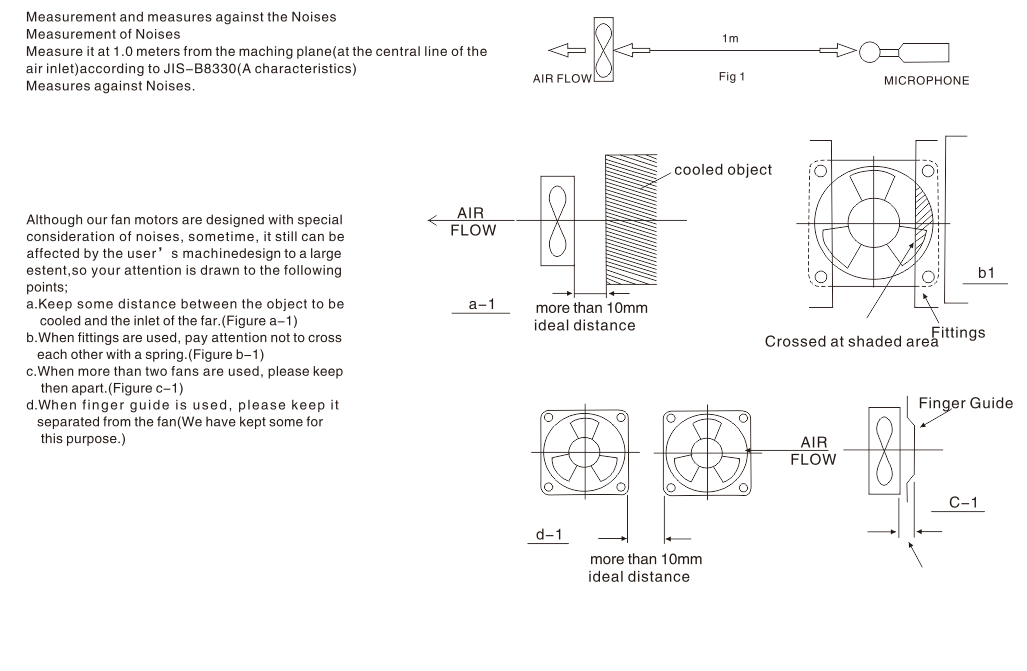 Selection of the Fan
The selection of fan is done in according with following steps:
a) .Estimate the heat value (kw)of the heat source.
b) Determine the allowable temperature rise value Δ T
c) Assume the approximate ventilation volume in according with Formula(1)
d) Assumption of system impedance based on the ventilation of internal equipment of past data
e) Decide on the fan by referring to the Characteristic curve in Figure 2 from your catalog
f) Determine the adaptability of the fan by physically installing it is the equipment and measure the air temperature rise value Δ T or draft volume Q. if draft volume Q is insufficient, It is caused by the high system impedance , so it advisable to replace it with a higher quality fan
Measurement and measures against the Noises
Measurement of Noises
Measure it at 1.0 meters from the machine plane (at the central line of the air inlet )according to JIS-B8330(A characteristics)
Measures against Noises.
Although our fan motors are designed with special consideration of noises,sometime,it still can be affected by the user` s machine design to a large extent , so our attention is drawn to the following points:
a. Keep some distance between the object to be cooled and the inlet of the far. (Figure a -1)
b. When fittings are used ,pay attention not to cross each other with a spring .(Figure b -1)
c. When more than two fans are used, please keep then apart.(Figure c -1)
d. When finger guide is used, please keep it separated from the fan (We have kept some for this purpose.)
Technical information of fan motor
Measurement of air volume and static pressure
In our company we have been measuring the air volume using the multi - nozzle chamber air volume measuring device of automatic recording type,which is in conformity with the highly reliable AMCA specifications(USA).
The error rate is below 1% theoretically.(based on AMCA),Also it is possible to measure the characteristics of the suction side as well as the blowing side ,( 54165915, 54145670, 54144285, 54144272, 54142882, 54141828, 54141732, 54140759,the values in catalog show the characteristics of the blowing side .)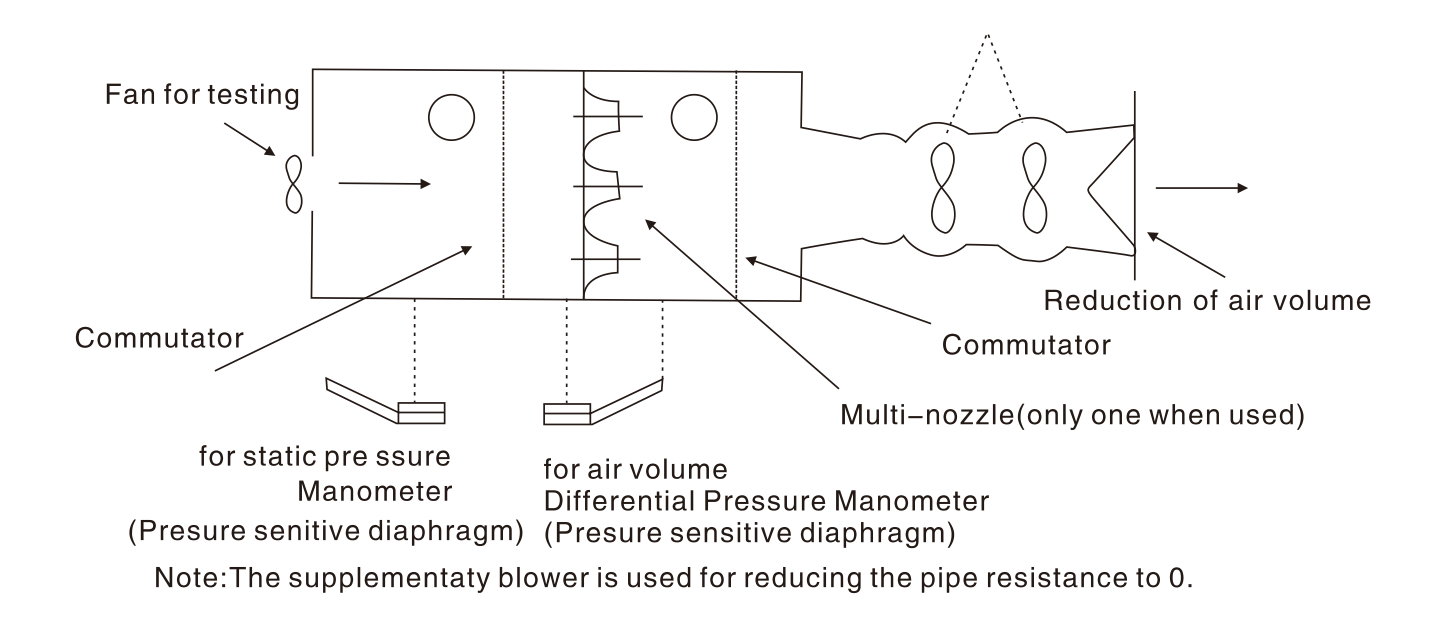 Operation principle of measuring device
(in the case of blowing characteristics)
Principle of measurement
Determine the internal capacity of the chamber so that the speed of the air inside the chamber becomes less than 1m/sec,and let the air inside the chamber become stationary and measure the static pressure of with the static pressure:(+)impressing
Pressure;(-)suction pressure and the pressure difference between the front and the back nozzles (for air volume),and by means of the computing section output the result on the coder.
Computation formula
Air volume =60xcx/40D2 2g/r Δ pn(m3/min )
But C=Flow coefficient (variable due to wind speed )of nozzle
D=diameter of nozzle
R=air density =1.293*273/273=1*P/760kg/m3
(t=temperature C,P=air pressure mmHg)
G=9.8m/ses2
ΔPn=Nozzle differential pressure mm-H2O
Stationary Pressure Δ P=PA-P
Mm-H2O(PA=Air pressure in Chamber A,P=Atmosphere (pressure)Conversion Formula of Air Volume and Stationary Pressure P(inch -H2O)=0.0394P(mm-H2O)
Guide to search of fan motor
Computation of Required Draft Volume:
It becomes necessary to determine the draft volume when be force the equipment to be air cooled.Although it is advisable to option the air volume required formula:
Q(CFM)=35.31Q(m3/min)
Q(1/S)=16.67Q(m3/min)
Q=50*KW/ΔT--(1)
Q=Airflow required in m3/min
KW=Heat dissipated in kilowatt
ΔT=T2-T1(Allowable temperature rise)in 0C
(T1=Air temperature at air inlet)
(T2=Air temperature at air outlet)
For example:6.25m3/min of airflow is required for a system that disspates 1KW and allow 80C(ΔT) temperature rise.
General Data:
Frame/Housing :Aluminum&Plastic UL 94v-0
Impeller :Plastic PBT(UL 94v-0)
Bearing System :Ball beating or sleeve bearing
Insulation Resistance : Above 100MΩ,DC500V
Dielectric withstand voltage : AC 700V one second
Operating Temperature :Ball bearing : -300C~700C
Sleeve bearing :-100C`700C
Life expectancy :Ball bearing :over 50,000hr(At250C)
Sleeve bearing :over 30,000hr(At 250C)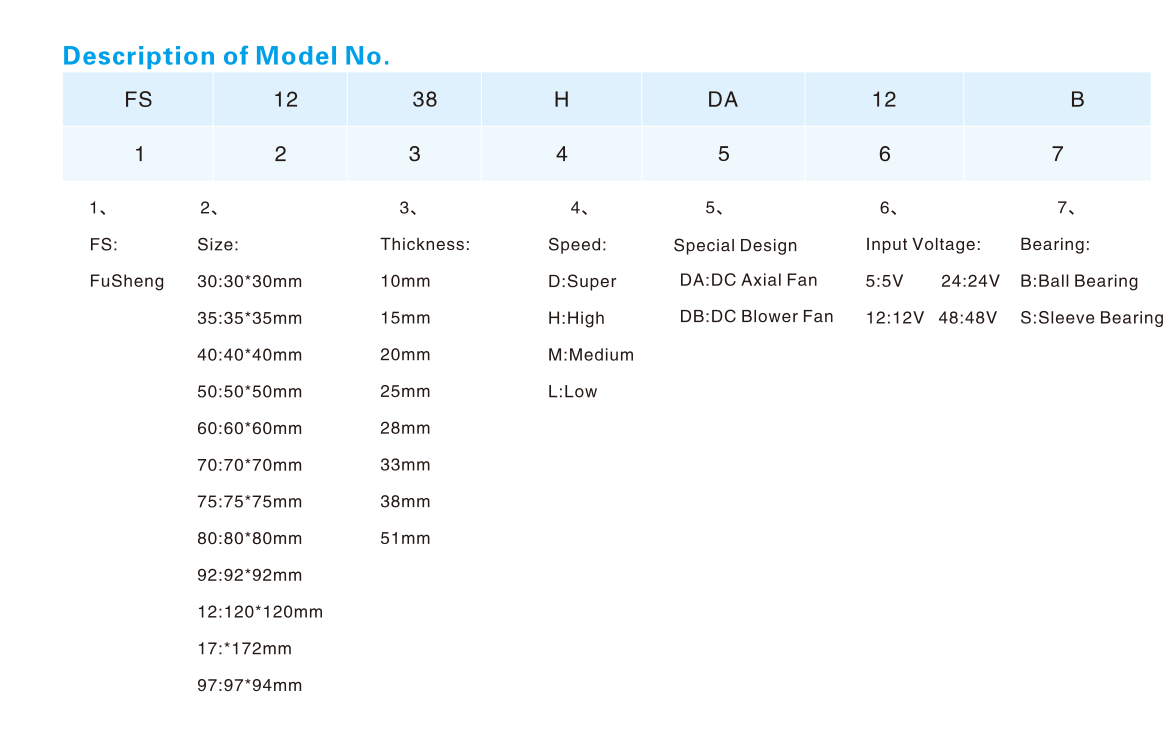 About us:
We are professional cooling fan manufacturer. We Produce and sale a wide range of cooling fan
items according to the needs of our customers!
Many of our clients work with us from the initial idea, through design and manufacturing to the finished product,
while some utilize our manufacturing expertise alone. We have a dedicated team of talented engineers with strong
experience. Working with our strategic partners closely, we can deliver a wide ange of products.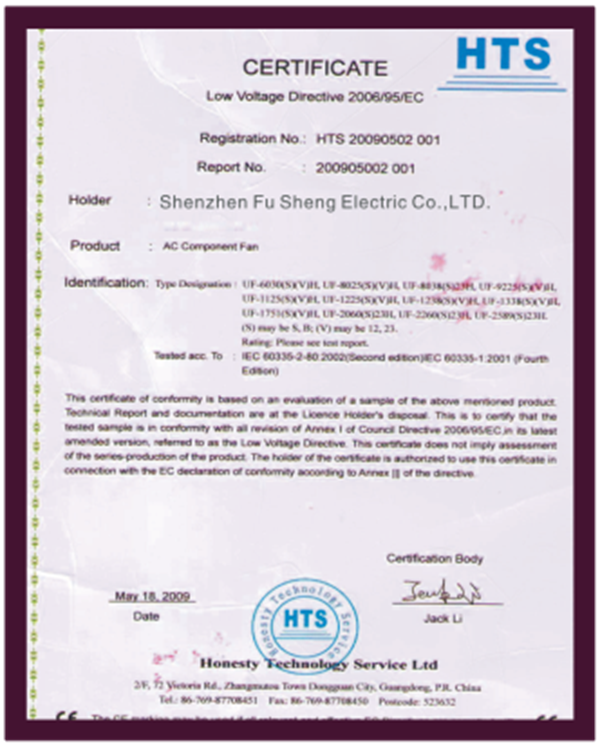 Why choose us:
1. Your inquiry related to our products or prices will be replied in 24hrs.
2. Well-trained and experienced staffs to answer all your enquires in fluent English.
3. OEM&ODM, any your customized fans we can help you to design and put into product.
4. Distributorship are offered for your unique design and some our current models.
5. Protection of your sales area, ideas of design and all your private information.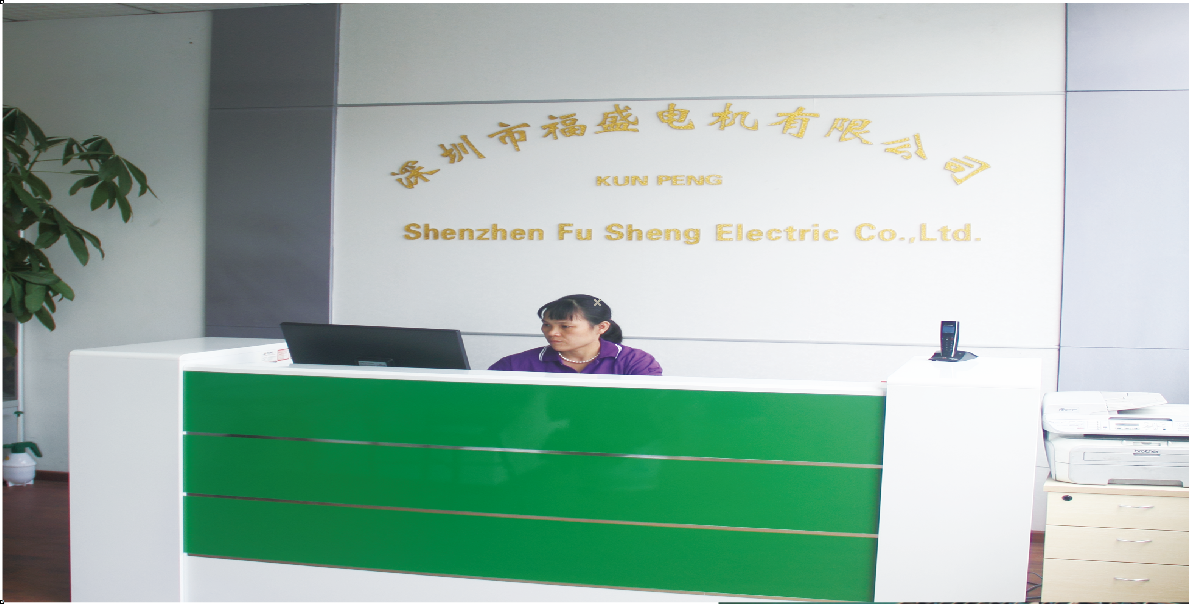 Trade Terms:
1. Payment: By T/T, 50% deposit in advance and the balance paid before shipment.
2. Lead Time: Within 15-20 days after the order is confirmed.
3. Sample policy: Samples can be ready in 3-7 days once payment received.
4. Shipping freight are quoted under your requests.
5. Shipping port: Shenzhen, Mainland China.
6. Discounts are offered based on order quantities.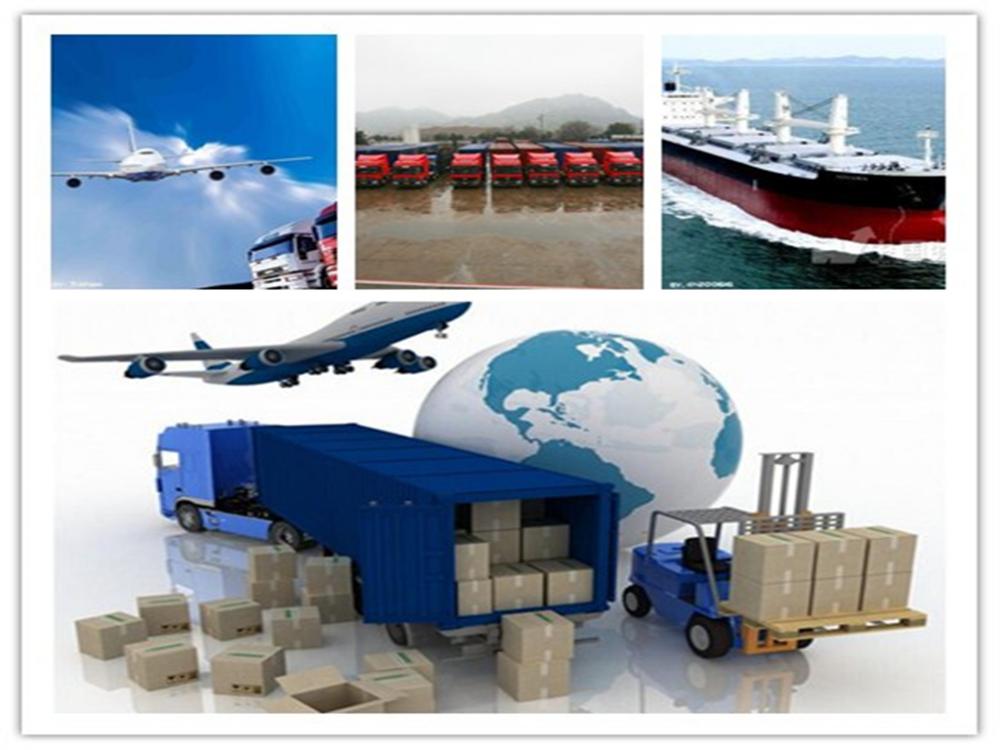 Our promises:
1. Quality assurance: 2~3 years warranty time. All the products will go through checks
during production ,the finished products 24 hours test.
2. Your inquiry related to our products or prices will be replied within 24 hours.
3. Protection of your sales area, ideas of design and all your private information.
4. Choose the cheapest and safest shipping company.
5. Track the order until you get the goods.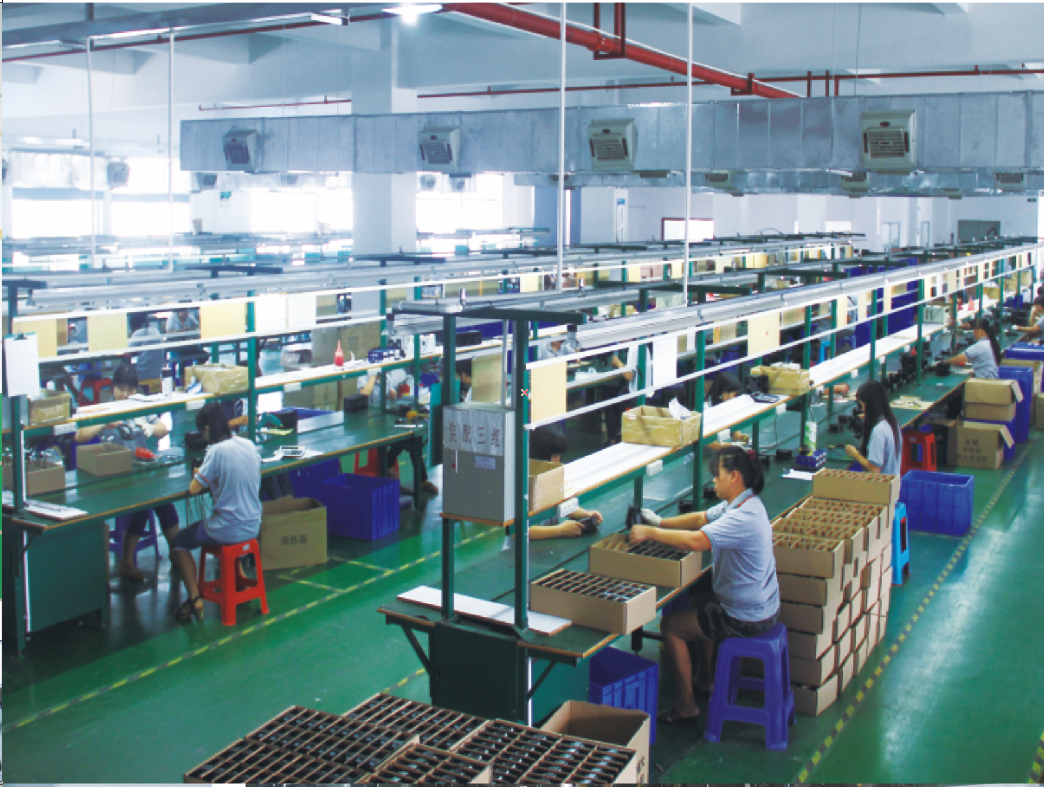 Contact Us:
If you have any questions, please feel free to contact us , Due to the time difference, you will receive our reply within 24 hours except holidays. It is our honor to provide you the appropriate solutions if you have any problems about our products.
If you are satisfied with our products and service, welcome to leave us a positive feedback. Your kind good comment is a great support to us .
We will strive to provide the best service and bring the highest satisfaction to all of our customers.
Happy shopping from ShenZhen Fu Sheng Electric Co.,LTD!